How To Rock Palazzo Jean Trouser In Nigeria. In This Article, You Will Learn The Ways To Rock Palazzo Jean Trouser In Nigeria.
How to rock palazzo jean trousers. Are you looking for ways to rock Palazzo jean trouser in Nigeria? Then this post is for you as we will show you the ways you can wear this trouser. Let's get right into it!
How To Rock Palazzo Jean Trouser In Nigeria
One of the most cozy and functional pairs of pants you'll ever own are palazzos. However, it's a myth that they don't appear attractive, which is untrue.
How is that possible when one of its distinguishing characteristics is a slightly high waist that gives it a seductive silhouette? Tell me how that isn't flattering, please.
We are aware that you may have given in to that assumption and let the palazzos hang in your closet.
It's time to take out the palazzo trousers because in this post, we'll look at how to rock them.
1. Wear crop tops with them.
Crop tops give you a more relaxed, sensual appearance. One of the greatest ways to rock palazzo jean trousers palazzos and make them appear adorable is to do it like this.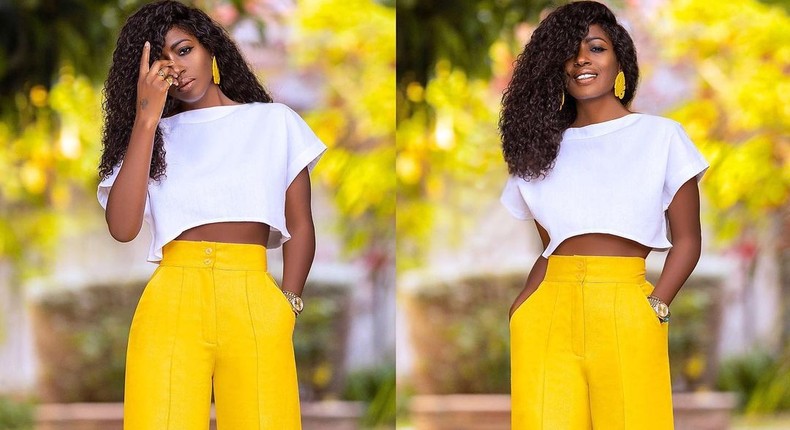 2. Palazzo + Dress shirts
Due to their versatility, palazzos can be made to look more professional by pairing them with silk or cotton shirts. Put on some pumps to finish off this fierce appearance, and you're prepared for the office.
]
3. Two-piece palazzo
An excellent approach to appear warm and carefree in your palazzo is to wear pajamas. It can be both semi-formal and informal.
4. Palazzo Pants with a wrap crop top
This style is giving a very feminine, sexy look. This look is giving and you should definitely try it out! Its a way to rock palazzo jean trousers.
5. Suit jacket
A suit jacket over your palazzo is a surefire method to improve your appearance and exude powerful boss chic feelings.
6. Pair with a turtleneck
Every outfit should have a turtleneck because it pairs well with so many other things. This look is giving boss vibes " you can't talk to me anyhow' feeling. You should try it today!
Frequently Asked Questions On How To Rock Palazzo Jean Trouser In Nigeria
1. What kind of shirt goes well with palazzo pants?
To create a relaxed but stylish style, use any long kurta, tunic, an oversized dress shirt, or a sweater. They provide your ethnic attire both comfort and flair.
2. How to style palazzo pants 2023?
Add some glam to your favorite pair with a bomber jacket, tube or halter top, or leather blazer.
3. How do you pair denim palazzo?
Put on a jacket over your shirt or dressy top, a pair of denim palazzo, and voilà! You are good to go now!
4. What top should I pair with wide leg trousers?
Wide-leg trousers should be paired with a fitting top to balance out the volume of the pants. The solution is a blouse or t-shirt in a contrasting color. You will appear taller and slimmer as a result of the attractive silhouette this provides.
Conclusion
This Post contains the ways to rock palazzo jean trousers in Nigeria. Hope you found this post useful for your next styling ?
Stay tuned for more updates like this!